This is to inform the University Community that the 10th Matriculation of the University has been scheduled to hold on Wednesday, November 30, 2022 at 12.00 noon in the various Faculties.
Please note the following: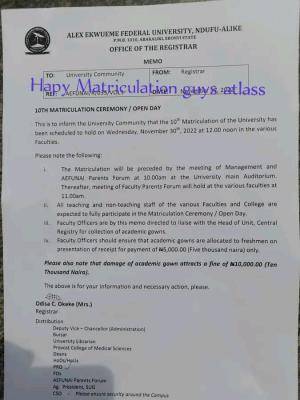 1.The Matriculation will be preceded by the meeting of Management and AEFUNAI Parents Forum at 10.00am at the University main Auditorium.
Thereafter, meeting of Faculty Parents Forum will hold at the various faculties at 11.00am.
ii. All teaching and non-teaching staff of the various Faculties and college are expected to fully participate in the Matriculation Ceremony/ Open Day.
iil, Faculty Officers are by this memo directed to liaise with the Head of Unit, Central Registry for collection of academic gowns.
iv. Faculty Officers should ensure that academic gowns are allocated to freshmen on presentation of receipt for payment of N5,000.00 (Five thousand naira) only.
Please also note that damage of academic gown attracts a fine of N10,000.00 (Ten Thousand Naira).
The above is for your information and necessary action, please.
Odisa C. Okeke (Mrs.)
Registrar